The 2016 election revealed serious vulnerabilities in our national electoral system that left us open to lethal attacks upon our democracy, both foreign and domestic, and resulted in the swearing-in of a thoroughly inexperienced and possibly compromised president who lacks legitimacy—Donald Trump lost the popular vote by nearly three million votes and his campaign, and perhaps even members of his party, may have colluded with a foreign power to undermine the democratic process and swing the U.S. election in his favor.
Let that sink in for a moment. The 45th President of the United States owes his victory and his office, in large part, to the covert actions of Russian spies. To put a finer point on it, Russian President Vladimir Putin directed his spy agencies to break U.S. law and directly influence the outcome of the election using a coordinated campaign of leaked emails and disinformation against the Democratic presidential candidate Hillary Clinton. And Putin's gambit paid off.
"Russia's goals were to undermine public faith in the U.S. democratic process, denigrate Secretary Clinton, and harm her electability and potential presidency. We further assess Putin and the Russian Government developed a clear preference for President-elect Trump."
This is no longer mere conjecture or hyperbole. The U.S. intelligence community—a federation of 16 military and civilian intelligence agencies including the F.B.I. and the C.I.A.—released their report on Russian interference on January 6, 2017 and confirmed what many, both on and off the record, had been saying for months: the Russian government was behind the DNC hack and provided WikiLeaks with the emails of top Democratic Party officials in order to ensure that Donald Trump won the presidency.
According to a recent report in The New York Times, the business dealings of Trump's former campaign chairman Paul Manafort are still under investigation. The Times previously reported that Manafort's name appeared in a secret ledger of cash payments from Ukraine's then pro-Putin ruling party back in August, while the Associated Press described Manafort's past work for Ukraine as being aimed at influencing government officials in Washington as well as U.S. news organizations.
In fact, Manafort is just one of at least three Trump campaign advisers under scrutiny—Carter Page, a businessman and former foreign policy adviser to the campaign, and Roger Stone, a longtime Republican operative and friend of Trump, are also part of a broader U.S. counterintelligence investigation being led by the F.B.I.
*****
As if the U.S. Congress needed any further cause to investigate the matter of Russian interference and continuing influence, British newspapers, the Daily Mail and The Telegraph, recently reported that former K.G.B. general Oleg Erovinkin who helped M.I.6 spy, Christopher Steele, compile the explosive dossier on Donald Trump was found dead in the back of his Lexus in Moscow on December 26, 2016. According to Russian state-run media, the Federal Security Service (formerly the K.G.B.) continues to investigate his death though, months later, no cause of death has yet been confirmed. Independent Russian news sources have indicated a Kremlin cover-up.
The day after BuzzFeed News leaked the dossier on January 10, Steele and his family immediately went into hiding, afraid for their lives.
Among other things, the dossier alleges that Russia has been "cultivating, supporting and assisting" Donald Trump for years.
Oleg Erovinkin was a key aide to Igor Sechin, a former deputy prime minister and now head of Rosneft, the state-owned oil company, and acted as a liaison between Sechin and Russian president Vladimir Putin. In an intelligence report dated July 19, 2016, Steele indicated he had a source close to Sechin who had disclosed alleged links between Trump campaign advisers and Moscow.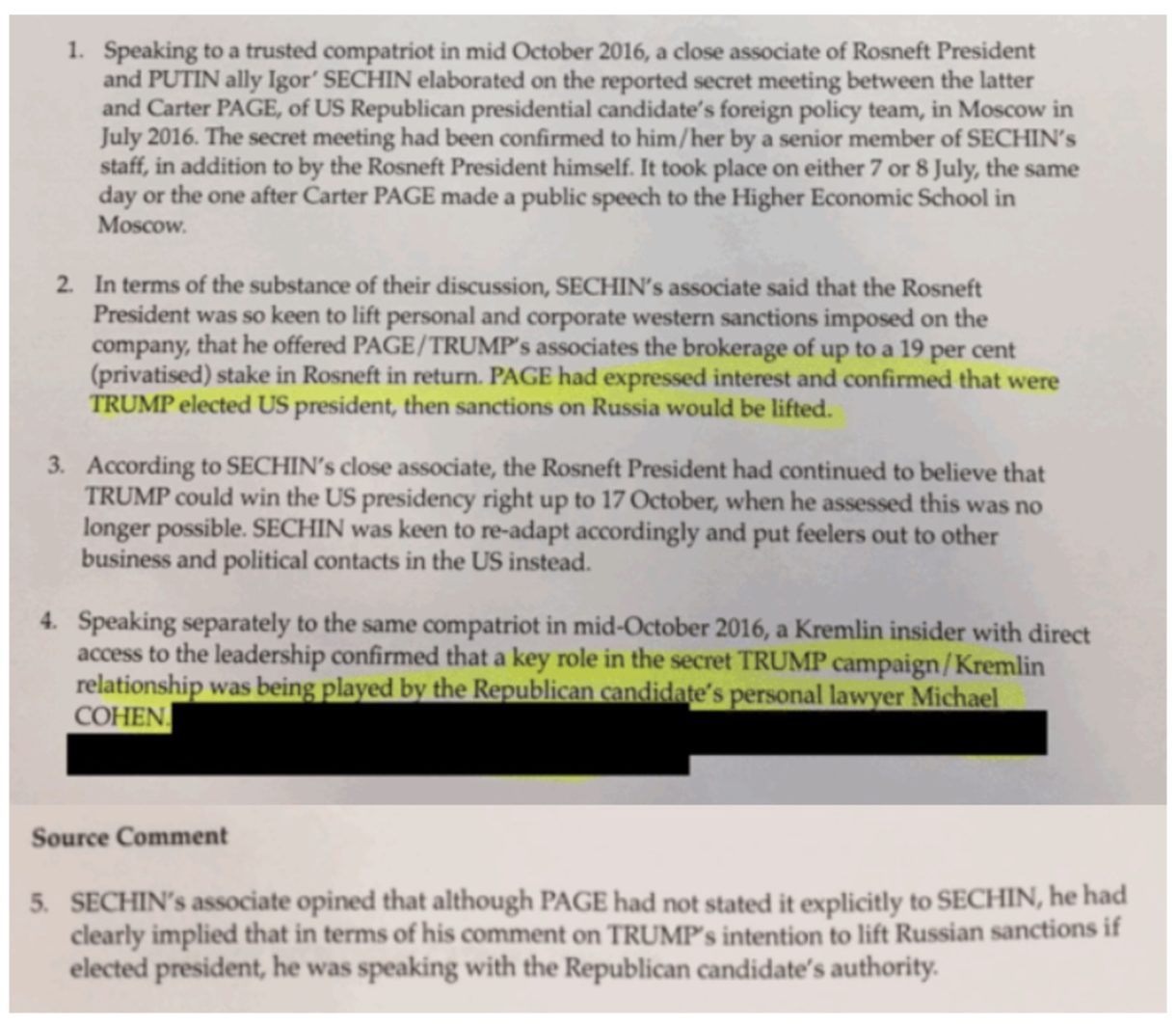 Christo Grozev, an expert on Russia-related security threats, was at first dismissive of the dossier but upon closer examination now believes it contains reliable information that links Carter Page and Trump's campaign to Erovinkin, and now Trump's administration to Russia. He also believes that Erovinkin was Steele's source.
This news, of course, closely follows troubling reports in Russian and U.S. media of the arrests of senior Russian officials, including, Sergei Mikhailov, a top level F.S.B. officer in the Russian cyberintelligence department, on charges of treason. A top manager for Russia's largest cybersecurity firm, Ruslan Stoyanov, was also arrested and charged with treason.
If these reports are accurate, the arrest of Mikhailov, the second most senior official in Russia's Center for Information Security, "would be one of the highest-profile detentions for treason within the F.S.B. since the breakup of the Soviet Union," says The Times.
Russian media is also reporting that the F.S.B. believes Mikhailov tipped off U.S. intelligence about Vladimir Fomenko and his server rental company "King Servers." King Servers was identified last year, according to USA Today, as an "information nexus" used by the "hackers suspected of working for Russian intelligence in cyberattacks on electoral systems in Arizona and Illinois."
In the wake of new revelations first reported by the independent Russian publisher Novaya Gazeta, MSNBC's Rachel Maddow took an in-depth look at the possible connections between President Trump and Russian President Putin, suggesting that Mikhailov's arrest for treason could be taken as a tacit corroboration of U.S. intelligence. Mikhail Gorbachev, the eighth and last leader of the former Soviet Union, founded Novaya Gazeta with funds from his Nobel Peace Prize.
Noting that U.S. intelligence still has "forward-looking concerns" about the Trump administration being "compromised by foreign influence," Maddow went on to point out that Trump's pick for secretary of state, Rex Tillerson, who is closer "than any other living American" to Putin, is very likely to be confirmed by the U.S. Senate, without a hitch.
*****
Sen. John McCain (R-AZ), the chairman of the Senate Armed Services Committee, has been among the most vocal Republican supporters, along with Sen. Lindsey Graham (R-SC), of an aggressive congressional investigation into the Russian cyberattacks. As early as mid-December, he and Graham joined with Sens. Chuck Schumer (D-NY) and Jack Reed (D-RI) in a letter to Senate Majority Leader Mitch McConnell (R-KY) calling for an investigation, stressing the need to determine all that happened during the election as well as to assess "the whole issue of cyberwarfare, where we have no strategy or no policy."
"It is one area where they have an advantage, perhaps the only area where our adversaries have an advantage over us," McCain said.
Yet despite the obvious threats to America's national security and bipartisan support, Majority Leader McConnell rejected their request and has repeatedly voiced his opposition to creating either a select committee or an independent commission, insisting instead that any investigation should be carried out solely by the Senate's Intelligence Committee. As majority leader, only McConnell has the power to decide whether to form a new select committee.
But, as Vox's Jeff Stein makes clear, the type of investigation matters a great deal. The commission proposed by Reps. Salwell and Cummings would be tasked solely to investigate the full extent of Russian interference and to release a public report at its conclusion. Regular Senate committees like the Intelligence Committee, on the other hand, have a lot of work to do and, even select committees, though more focused, are under no such obligation to reveal their findings. More importantly, while Senate investigations have subpoena power, those powers would be enjoyed only by Republican committee members leading the investigation.
While party-controlled committees typically operate with biases, recent Republican-led House investigations—such as those into Benghazi and Planned Parenthood—have been notorious for their hyperpartisanship, stunning lack of comity and utter disregard for the truth.
Democratic members would have no power to chose or compel their own witnesses to testify or to affect the course of an investigation that could potentially implicate members of the GOP, members of Donald Trump's campaign and administration, as well as the president himself.
Finally, Sen. McConnell's own nakedly partisan and behind-the-scenes efforts to thwart stronger action to stop Russian interference months prior to the November election cast doubt on the integrity of any such Republican-led Senate investigation, whether regular or select, particularly one held free from public scrutiny.
The Senate Intelligence Committee began its investigation on Tuesday, with lawmakers pledging to look "everywhere the intelligence tells us to go" even if this means finding links between the Trump campaign and the Kremlin, reports The Washington Post.
The next day, the House launched its own formal inquiry into the Russian cyberattacks. Rep. Adam Schiff (D-CA)—the ranking Democrat on the House Permanent Select Committee on Intelligence—made clear in a tweet that he and Republican Devin Nunes (D-CA), the committee chairman, will be reviewing all relevant documents and assessing "any intelligence regarding links between Russia and individuals associated with political campaigns."
*****
On the same day Donald Trump received his own private intelligence briefing on the matter in early January, Reps. Eric Swalwell (D-CA) and Elijah Cummings (D-MD)—ranking Democrat on the House committee on oversight and government reform—reintroduced the Protecting Our Democracy Act, a bill that would create an independent bipartisan panel of experts, similar to the one convened after 9/11, to investigate foreign interference in the 2016 U.S. election.
According to Swalwell—ranking member of the House subcommittee on the CIA—the 12-member commission would be "empowered to interview witnesses, obtain documents, issue subpoenas and receive public testimony in examining the Russian government's attempts to use electronic means to influence, interfere with, or sow distrust in this year's U.S. elections," with each party selecting six of its 12 members.
"Regardless of whether you voted for Donald Trump, Hillary Clinton… Russia's attacks on our election are an attempt to degrade our democracy and should chill every American… to the core," said Cummings.
The commission's probe would go well beyond the hacking of the Democratic National Committee, the Democratic Congressional Campaign Committee and Hillary Clinton's campaign chairman John Podesta and would include known cyberattacks on electoral systems in Arizona, Illinois and Florida as well as the creation and dissemination of fake news by foreign players through official and unofficial media channels.
*****
In the days and weeks after the election, leading up to the inauguration, many congressional Republicans in Washington, particularly those in the House, were enjoying their newly won control of all three branches of government, and it seemed, felt emboldened enough to ignore rules of proper conduct, to subvert the rule of law and hinder the functioning of the government itself.
The fact that both chambers of Congress have finally launched their own official inquiries into the Russian cyberattacks that top U.S. intelligence officials firmly believe were aimed at helping Trump win is an encouraging step but as the Senate confirmation hearings for Trump's cabinet picks whiz by at breakneck speed, the critical role an independent press plays in defending a fair and free American democracy becomes painfully clear.
Now more than ever, Republicans in Congress must be pressured to join Democrats to impanel an independent commission to investigate the extent of Russia's influence in the 2016 election and power over the current administration.
Without proper oversight and relentless pressure from the media, the current investigations could remain under the radar of most Americans and/or be consigned to archival oblivion by GOP lawmakers. More importantly, Russia's continuing attempts to influence the current administration will otherwise go unchallenged, if not unnoticed, by members of the House and Senate GOP who are eager to see their conservative agenda passed while they have the chance, and the president, to get it signed into law.
Without an independent commission of experts assessing all that went down during the 2016 elections, we assure our enemies that efforts to undermine our elections, and our sovereignty, in the future will only be rewarded. Remember, Russia's attacks very probably influenced more than just the presidential race. For months, polls were not only forecasting a Clinton win but were predicting that Democrats would likely take control of the Senate and make gains in the House. Without a thorough independent investigation, we will never know the extent of the damage done or of the continuing threats to our electoral system—the foundation of American democracy.
And without ongoing pressure from the media, we will likely never see any such commission under a Republican House and Senate. Now is the time for reporters to operate in novel and collaborative ways, to bypass the Trump administration and its mouthpieces, and to question House and Senate Republicans directly—those who might join Democrats in calling for an independent commission as well as those who are still trying to block it.
It's hard not to think back to the 2000 presidential election, when the U.S. Supreme Court handed Republican candidate George W. Bush the state of Florida and the presidency.
After the 2000 election, there was never any meaningful review or standardization of voting practices at the state or federal level nor any real electoral reform passed to improve the integrity of the system. Ten years after Bush v. Gore, and right after the mid-term elections that handed the GOP a nearly unbreakable hold on the House, The Nation's John Nichols was arguing that the U.S. still had "an unstable and unequal election system… ripe for gaming by political insiders."
The lack of any real election reform did not go unnoticed by political insiders back in 2000. Perhaps, Russia's then newly elected president, Vladimir Putin, took note too.
-Danielle Bizzarro